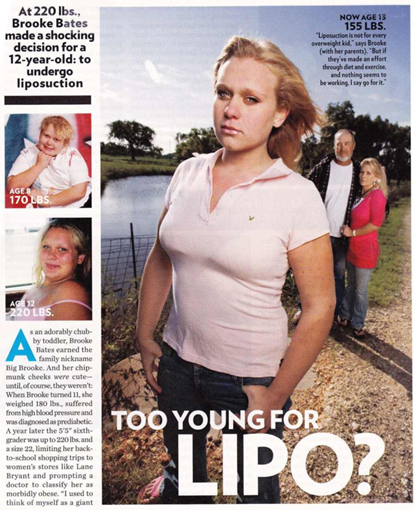 To look good is innate in most people, if not all. Majority would not want to strut down the streets with people staring at them, criticizing their appearance. This is a huge push for anyone who has the monetary capacity to undergo plastic surgery. Plastic surgery is booming these days that when celebrities or even common persons look perfect, there would be some suspecting whether the nose has been done or breasts have been implanted, as if these are the most natural things in the world.
In earlier times, older people are the only ones who usually go through these procedures in order to look younger. Today, it seems that people are getting more anxious and conscious with the way they look, which is why there are some who really save up for cosmetic procedures. In fact, the youngest patient who underwent these procedures is Brooke Bates. She had liposuction and a tummy tuck at the age of 12 and breast implants at the age of 15. According to her, she decided to undertake these procedures, amounting to roughly $70,000, because she was being bullied for her weight and her look. Now, even women in their late twenties or early thirties undergo these procedures to defy aging and to enhance their assets. Going through this procedure is one way to build or improve self-esteem and to look better.
Having said that, most people want to take specific procedures that will enhance their looks. Where to take this procedure is one of the major concerns they need to consider, alongside with the best results they are aiming for.
Studies show that there has been an increase in demand (with about 50 inquiries per week) for overseas services. One place people have been flocking to is the Philippines for the following reasons:
Privacy
Not everyone feels comfortable going through this procedure in their hometowns where they can be easily recognized. People who undergo this procedure want to keep it confidential, which is why some choose to do this overseas.
Trustworthy Professionals
Much like Dr. Enrico Valera, most surgeons in the Philippines obtained their degree or had additional practices overseas; hence, they are just as trustworthy as those surgeons in the U.S. and Europe. In fact, to enhance his skills and knowledge, Dr. Valera attends plastic surgery conferences both locally and abroad, as well as exchanges views with local and foreign colleagues. Most surgeons in the Philippines do the same.
Same Services

Since most surgeons in the Philippines have studied abroad, they offer services (some even more) similar to those in the U.S. and Europe. That being said, people don't have to worry about the quality and safety of the procedures in the country.
Cost
People are aware that going under the knife costs a lot of money. This is why common patients of these procedures are celebrities and wealthy people. Surgeries in the U.S. and Europe range from $6,000 to $15,000, depending on the type of surgery. On the other hand, surgeries in the Philippines only range from $2,000 to $5,000. With surgeons as great as those in other countries and services as effective, this is a good deal for anyone who is in a tight budget.
Surgery services in the Philippines can be the best option for individuals who are looking for a good deal, a way to save money, and a quality and safe procedure.